Amazon Web Services releases AWS Management Portal for vCenter. Sign of competition̶ o̶r̶ ̶p̶a̶r̶t̶n̶e̶r̶i̶n̶g̶ ?
|
update June 2:
Chris Wolf, CTO Americas for VMware responded to the release of the Management Portal with a blogpost titled: Don't Be Fooled By Import Tools Disguised as Hybrid Cloud Management.  This provides a clear answer: sign of competition.
—–
Amazon Web Services released at May 30 2014 the 'AWS Management Portal for vCenter'. This free plug-in for vCenter allows  management of virtual machines and virtual networks running on Amazon Web Service from the vSphere Client.
AWS Management Portal also allows to import a vSphere virtual machine to AWS. The VMware virtual machine needs to be shutdown to perform a conversion to the Amazon .AMI format as well as the upload to an Amazon datacenter.
The management portal also offers self-service access to AWS.
A single console now provides management of both VMware on-premises infrastruture as well as public clouds. This is not a comprehensive tool for creating and managing AWS resources. The management portal enables vCenter users to get started quickly with basic tasks, such as creating a VPC and subnet, and launching an EC2 instance. To complete more advanced tasks, users must use the AWS Management Console or AWS CLI.
A comprehensive step by step description of the features of AWS Management Portal is published on amazon.com.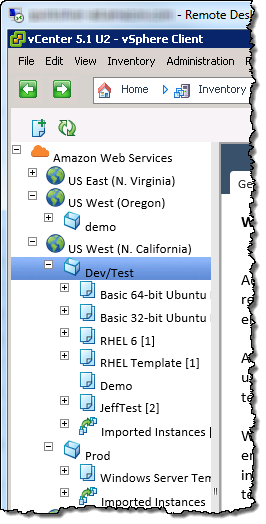 AWS Management Portal is distributed as a .OVA file which can easily imported into vCenter Server. Download here.

Competition or partnering?
Forbes.com reports on the release of the plug-in with a post titled: Amazon Web Services Takes The Battle To VMware . Is this a battle or a sign of collaboration between VMware and Amazon?
Both have are marketleaders in their field: VMware vSphere for on-premises datacenters, Amazon for public IaaS cloud. However the hybrid proposition of both is weak. Microsoft has many powerfull cards in their hands. Allmost all organizations worldwide are a customer of Microsoft. Microsoft Azure is developing in a rapid pace and offers many scenarios for enabling hybrid cloud connecting infrastructures and applications.
Amazon Web Services (AWS) is by far the biggest cloud provider. See the Gartner Magic Quadrant for IaaS for example. However most AWS customers are not using AWS to host their enterprise applications. The Gartner definition of an enterprise application is:
These are general-purpose workloads that are mission-critical, and they may be complex, performance-sensitive or contain highly sensitive data; they are typical of a modest percentage of the workloads found in the internal data centers of most traditional businesses. They are usually not designed to scale out, and the workloads may demand large VM sizes. They are architected with the assumption that the underlying infrastructure is reliable and capable of high performance.
source 
VMware vSphere is the market leader in hosting enterprise applications located in on-premises datacenters and colocation environments. VMware does not have a large presence in Infrastructure as a Service. Their IaaS offering named vCloud Hybrid Service has been available since end of August 2013. VMware for the first time appeared in the Gartner MQ for IaaS in May 2014.
Last year (June) at the Gartner Catalyst conference  Chris Wolf did an interview with Raghu Raghuram, executive VP of cloud infrastructure and management. A small piece of the interview went like this. Source Gigaom.com
Wolf:  "What if VMware and Amazon were to work together on seamless workflow? Our audience loves it — it's a customer requirement."
Raghuram: "How do you know we're not working closely with them?"
Wolf: "We haven't seen any results."
Raghuram: "Stay tuned."
Wolf: "Would you to elaborate on that?"
Raghuram: "Nope."
So this release of the AWS Management Portal for vCenter could be the start of something bigger. However it is unclear what benefits VMware has. The AWS Management Portal could lure VMware customers to Amazon EC2 instead of the VMware vCHS.