Possible announcements for VMworld 2014
|
Like every year VMware will announce new and updated products and services at VMworld 2014. While VMware never releases information about VMworld announcements, there are always some indications,  rumours and educated guesses which provide some insights on what to expect.
Lets do some speculation and guesses what could be announced at VMworld 2014. VMworld USA is often used for  annoucements on vSphere, vCloud Suite and  vCenter   while VMworld Europe mostly has annoucements on management tooling and end user computing.
Let me be clear: All being written in this blogpost is mostly  based on internet sources (some at VMware.com) , some speculation and partly educated guessing. 
project Marvin / Mystic
VMware vSphere next (2015)
introduction of Virtual Volumes (VVOLs)
VSAN 2.0
NSX channel program competency
replacement for vCenter Heartbeat
vCHS -> more European datacenters
Project Mystic  and VMware MARVIN
Several indications show both VMware & EMC are working on a converged infrastructure solution. CRN published an article about Project Mystic. Mystic could be a converged system in which compute and storage hardware is supplied by EMC while VMware produces the software. The software is nicknamed MARVIN in which VSAN likely has a major share .
'Mystic' is said to compete solutions like Nutanix and Simplivity.
Fletcher Cocquyt spotted this poster attached on a window at the VMware campus showing project MARVIN.
CRN has published an article on Mystic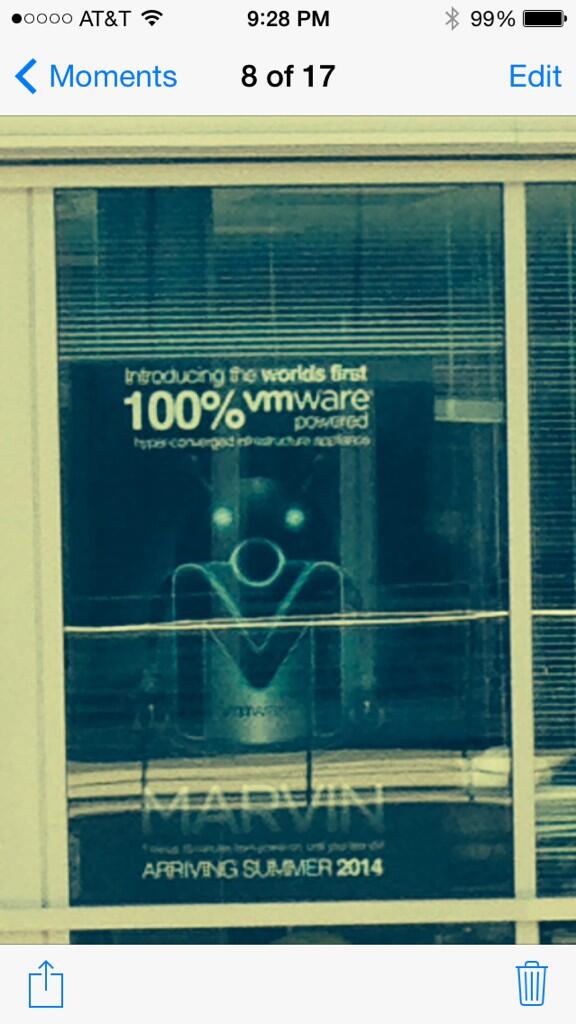 VMware vSphere announcement
A major release of  vSphere is announced about every two years. So likely is that this year vSphere next will be announced at VMworld. In July a private beta was made available to the public. Anyone interested to know  the features and participate in making vSphere better  are welcome to join this beta. Anyone can join and find out the new features of vSphere next. For whatever reason the information available to anyone (only have to join the beta) is still under NDA. As I joined the beta I am not allowed to blog about the new features.
vSphere next is not expected to be released in 2014. Early 2015 is a likely time as this blogpost at VMware.com suggests.
VSAN 2.0
When VMware acquired Virsto it also got hold of a lot of knowledge on using clever techniques. The engineers which worked for Virsto are likely to use their knowledge for new features in VSAN 2.0. I am not sure when VSAN 2.0 will be released. It could be as the same time as vSphere 2015 or in a seperate Update to vSphere 2015.
Replacement for vCenter Heartbeat 
VMware announced  the end of availability of vCenter Heartbeat. This solution made vCenter highly available especially when vCenter was installed on a physical server. But even on a virtual machine HA or vMotion might not be sufficient. So we might see a new way of providing redundancy for vCenter announced at VMworld.
Virtual Volumes (VVOLs)
VMware has been talking about Virtual Volumes ever since 2011. So far it did not lead to an available technology. VVOLs is all about the VMDK. Instead of presenting LUNs storage arrays are serving VMDK files. For each VMDK policies can be set like if the VMDK requires replication, thin provisioning and maybe some sort of Quality of Service .
Two of the advantages of VVOLs is offloading tasks to the storage array. Both snapshots and cloning will be performed by the storage array when VVOLs are used. Performance is not affected when snapshots are made or commited. Tintri had a demo at VMworld 2013 of VVOLs. See the video here. Nimble has a demo video as well. NetApp has a demo as well as shown in this blog.
End of June 2014 VVOLs went into a public beta. More information here. 
NSX channel program competency
NSX is a solution not suited for each and every VMware customer. It cannot be downloaded from the VMware website. Installation needs carefull planning and knowledge. Customers showing interest in NSX can order a paid Proof of Concept. A VMware will then make a design and do the implementation.
For VMware partners to succesfully sell and implement NSX a special competency will be announced according CRN. Partners will probably we able to study online and gain knowledge on NSX.
vCHS -> more European datacenters
At VMworld Europe VMware announced it would make available vCloud Hybrid Services in more European datacenters. At the moment there is a single European datacenter operational in the UK (Slough near London). An announcement of a new datacenter in France or Germany is quite well possible. In June 2014 VMware announced the opening of a 5th datacenter in the US. VMware also seems to be working on a vCHS datacenter in Japan.