What is new in VMware vSphere 6.0 ?
|
At a special event VMware announced VMware vSphere 6.0. Many of the new features were already know as these were discussed at VMworld 2014. However some new features were made public today.
This post will show the new feature for both ESXi 6.0,  vCenter Server 6.0 and the vSphere full and Web Client.
In bold are the new features made public at February 2.
ESXi 6.0
scale improvements 
supports 64 hosts per cluster (from 32 in 5.5)
8000 virtual machines per cluster (4000 in 5.5)
480 CPU's per host
12 TB of RAM per hosts
1000 VMs per host (512 in 5.5)
support for 128 vCPU's per VM
4 TB of virtual memory
New features 
VMware vSphere Data Protection Advanced is now part of vSphere Essentials Plus Kit or higher vSphere editions, all vSphere with Operations Management editions and all vCloud Suite editions (source)
Instant Clone. Previously known as a Tech Preview named Project Fargo. Instant Clone clones a running virtual machine in seconds. More info here.
Virtual SAN (VSAN) 6.0.
P

ricing


VMware Virtual SAN is priced at $2,495 per CPU.
VMware Virtual SAN for Desktop is priced at $50 per user.
The new All-Flash architecture will be available as on add-on to VMware Virtual SAN 6 and will be priced at $1,495 per CPU and $30 per desktop.
Virtual Volumes.
VMware vSphere Virtual Volumes will be packaged as a feature in VMware vSphere Standard Edition and above as well as VMware vSphere ROBO editions.
vSphere APIs for IO Filtering (more info here)
NFS 4.1 support (WoodItWork.com)
VMware VM Component Protection (VMCP). Duncan Epping has a post on this.
Virtual Datacenters. More info here
NVIDIA Grid vGPU support.
ESXi 6.0 can out of the box installed on  all Mac Mini platforms starting from 5,1 and newer as well as Mac Pro 6,1 platform and newer. More info on VirtualGhetto.com Mind the Apple platform is not supported by VMware.
VMware Tools includes a "freeze/thaw" mechanism for quiescing certain Linux distributions at the file system level for improved recovery reliability. See vSphere documentation for specifics on supported Linux distributions.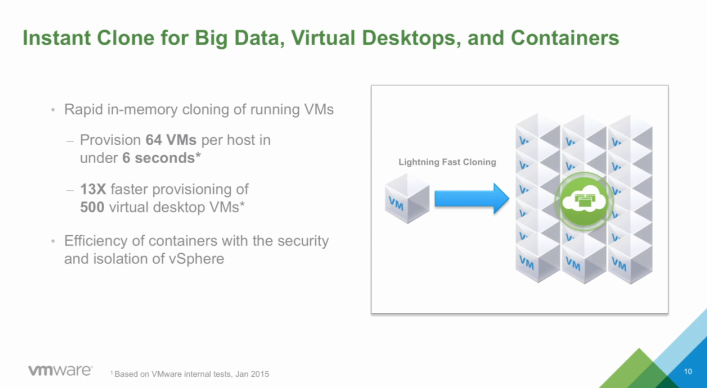 enhanced features
Fault Tolerance support for 4 vCPU's. According to a breakout session at VMworld 2014 US Fault Tolerance has been rewritten from the groud up. Info here
vMotion enhancements
better Microsoft clustering support. More info in this post of Cormac Hogan
hot-add RAM now vNUMA aware
WDDM 1.1 GDI acceleration features
Networking
not many changes in the networking. Network IO Control is now at version 3. After upgrading to vSphere 6 NIOC needs to be upgrade seperately. You can now set a guaranteed bandwidth. This is usefull for service providers which want to deliver a Quality of Service on the network bandwidth. It is a reserveration which means one set thereserved amount of  bandwidth is taken away from the total available bandwidth even when not used. Can be applied at the vNIC as well as at the Distributed Port Group level
VMware stopped selling and supporting the Cisco Nexus 1000V virtual switch (source). Cisco will continue to support and sell the switch.
vSphere Replication 
With VR 6.0, VR traffic can be isolated from other vSphere host traffic.
Compression can be enabled when configuring replication for a VM. It is disabled by default.
Updates are compressed at source (vSphere host) and stay compressed until written to storage. This does cost some CPU cycles on source host (compress) and target storage host (decompress).
Uses FastLZ compression libraries. Fast LZ provides a nice balance between performance, compression, and limited overhead (CPU).
Typical compression ratio is 1.7 to 1
VMware VM Component Protection (VMCP)
This is a new feature which will allow an automated response to All Path Down (APD or Permanent Device Loss (PDL) situations. APD can be fiber channel controller failure for example or a switch misconfiguration. An example of a PDL situation is when a host is removed from the storage array access control list so the host does not have access to the storag array. The response tp a PDL or APD can be set. Either to a restart  on a healthy host, reset or terminate the VM
VMware HA is now able to detect the loss of storage connection and restart virtual machines on other hosts.
VMCP will resolve issues on storage. VMware is working to have this respond on networking issues as well.
Microsoft  Clustering support 
Support for Windows Server 2012 R2 and SQL Server for Failover Clustering and Always on availability groups.
IPV6 support for in cluster configurations
PVSCSI and SCSI controller support
vMotion support in Microsoft clustering configurations. Supported on Windows 2008, 2008R2 and 2012R2.
Fault Tolerance enhancements 
Fault tolerance will now support VM's with up to 64 GB of memory.
10 GB network is now required for FT
hot configure Fault Tolerance. You no longer have to turn off a VM in order to enable FT
Support for vStorage APIs for Data Protection (VADP) for Fault Tolerance
Fault Tolerence will now have seperate VMDK files of a protected VM. You can also select a different datastore for the shadow VM. This is a requirement.
 vMotion enhancements 
long distance vMotion. More info here and here Long distance vMotion now support 100ms roundtrip. Used to be 10ms.
vMotion across vCenters , vMotion using routed vMotion networks and vMotion across virtual switches
Using VMware NSX, network properties will now be vMotioned as well when using long distance vMotion.
Other enhancements
beter auditability of what ESXi admins did. The vCenter username is now mentioned in logs and not just vpxuser.
virtual machine now can have 32 serial ports. This is for example used by some Point of Sale systems.
VMware vCenter 6.0
Microsoft clustering support for the vCenter Server 6.0 itself, not just the database
vCenter Server 5.5 Update 3 will support Microsoft Failover clustering
However Fault Tolerance is not supported for vCenter Server on Windows and the vCenter appliance 
vMotion cross vSwitch allows to perform a vMotion across different types of switches. During the vMotion you can change portgroup.
vSS to vSS
vSS to vDS
vDS to vDS
vMotion across vCenter. Requires vSphere 6.0 on both ends. Information like statistics and alerts will be moved over the other vCenter server.MAC Addresses preserved across vCenters
long distance vMotion increased latency. Cross-continental distances supports up to 100ms RTTs (used to be 10 ms)
the vMotion network is routeable now and fully supported.
Content Library. A way to centrally store VM templates, vApps, ISO images and scripts. The function is similar to the Content Library of vCAC. Content Library's are replicated over vCenter Server instances. The advantage is a central managed repository preventing for instance severalcopies of templates of the same guest OS. This allows the replication of templates.
the vSphere Client is still available. It will not allow to configure ew features introduced in vSphere 5.1 and higher.
The vCenter Appliance now has the same scale as the vCenter Server running on Windows. There is no SQL support for the appliance however!
| | | |
| --- | --- | --- |
| Metric | Windows | Appliance |
| Hosts per VC | 1,000 | 1,000 |
| Powered-On VMs per VC | 10,000 | 10,000 |
| Hosts per Cluster | 64 | 64 |
| VMs per Cluster | 8,000 | 8,000 |
| Linked Mode | ✔ | ✔ |
Windows install supports Postgres and External SQL and Oracle DBs.
vCSA supports embedded Postgres and external Oracle DBs.
introduction of the Platform Services Controller. This can  be compared to a Active Directory Domain controller. It groups various services in a single service like Single sign-on, licensing and certificate authority.
Update Manager is still a seperate install on a Windows Server. There are no binaries for the vCenter appliance.
introduction of Certificate Lifecycle Management which is a root CA. So no more self signed certificates. It runs on the Platform Services Controller. There will be a VMware Certificate Authority which issues vertificates to vCenter Server and ESXi hosts. The VMware Certificate Endpoint Service  (VECS) is a kind of wallet. It stores certificates for vCenter. ESXi hosts will store certificates locally on the host like on vSphere 5.5
vSphere  Client
VMware did a lot of effort to enhance the performance of the web client. The performnce is now on par with the Windows based vSphere Client. The vSphere Client (the C# one installed on Windows) will remain available in vSphere 6.0. According to VMware vSphere 6.0 will be the last release having C# client support. Haven't we heard that before ;-)?
Web client in 6.0 supports Internet Explorer, Firefox and Chrome. But Firefox  is 50% slower.
Improved login time. It is now 13x faster
Faster right click menu load. It is now 4x faster
Faster performance charts
Most tasks are at least 50% faster
Performance Charts are available and usable in less then half the time
the same virtual machine remote console in the Windows client is now available in the web client. Look and feel and functionality are the same
Recent Tasks moved to bottom
Flattened right click menus
Deep lateral linking
you can now customize the webclient by placing recent tasks, alerts and other panes to the location you want.