Atlantis Computing announces HyperScale: an All-Flash hyper-converged appliance
|
Atlantis Computing announced at May 5 a new solution named HyperScale: a four node all-flash hyper-converged appliance running either VMware vSphere or Citrix XenServer. The appliance is available in two versions: the CX-12 and the CX-24. The hardware can be selected from HP, Lenovo, Supermicro and Cisco.
Use case scenario's for HyperScale are server virtualization, desktop virtualization and running high performance databases.
The official launch of HyperScale will be later today. Register here. 
The heart of the HyperScale appliance is provided by Atlantis USX. USX is a software defined storage solution.It runs as a virtual machine on top of a hypervisor. USX is able to dedupe, compress and optimize IO. Just like VMware VSAN, Maxta, Nutanix and others, USX is able to pool server local storage into a distributed pool of storage. No need for a SAN. However USX is perfectly able to use a SAN and even present VMware Virtual Volumes even when the SAN firmware does not support VMware VVOL.
Support for KVM and Hyper-V is on the roadmap.
Atlantis with HyperScale is entering the hyper-converged virtual appliance market and competing with turnkey solutions of Nutanix , Simplivity and VMware EVO:RAIL. Atlantis claims to be 50-90% cheaper than other hyper-converged systems.
The CX12 model will be available starting at $ 78,000   for the 12TB  useable storage, all-flash four-server cluster.Pricing depends on the vendor. The Supermicro appliance is the cheapest, Cisco the most expensive.
The CX-24 model will be priced starting at $ 145,000,- for 24 TB all-flash.
A CX-48 model will be annouced in the near future.
The price includes the hardware plus 365/24/7 three year telephone support on hardware and hypervisor.  The costs for the hypervisor are additional.
The Register has a couple of images showing prices relative to Nutanix and Simplivity.
Mind this is a bit of apples to oranges comparing. Nutanix offers features that HyperScale does not provide. For exampe Metro Availability.
However Nutanix does not offer an all-Flash storage.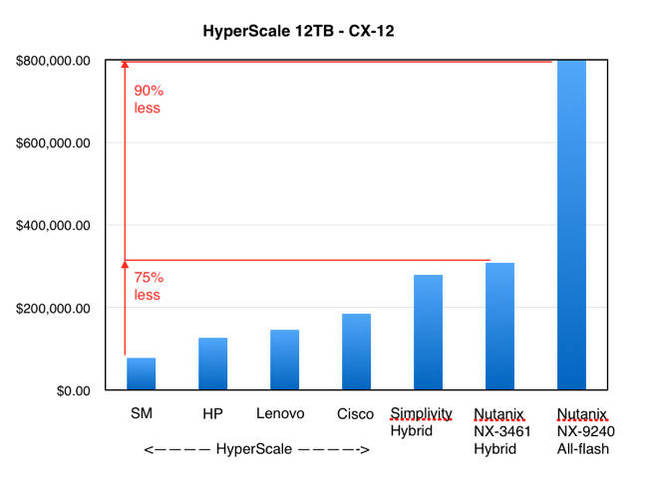 An overview of HyperScale including the specifications can be found here.
More information
Storagereview Atlantis Launches All-Flash Hyper-Converged Appliance At 90% Lower Cost
VirtualizationPractice Atlantis Computing Releases HyperScale