Azure services to be available in UK and German datacenters in 2016
|
Microsoft Azure and Office 365 is expanding rapidly. Early November Microsoft announced it will open new regions (a cluster of datacenters) in both the UK and Germany, adding to the current European regions in Ireland (Dublin) and the Netherlands (Amsterdam).
The Azure datacenters in Germany seem to be different from the current Azure datacenters. Germany law is very strict on location of data. Microsoft is targeting German customers like public services, healthcare and financial services. T-Systems, a branch of Deutsche Telekom will operate the datacenters in Germay.
According to The Verge
By placing its data centers under the control of a Germany company (T-Systems)as a "data trustee," Microsoft is forcing any requests for information to be routed through Germany authorities.
Ecommercetimes reports about the role of a data trustee
"The data trustee controls access approval to customer data by anyone other than the customer and their end users," a Microsoft spokesperson said in comments provided to the E-Commerce Times by company rep Jennifer Reynolds. "This means that operations or other tasks that require access to customer data or the infrastructure in which customer data resides will be performed or supervised by the data trustee, or in certain instances directly by the customer. Microsoft and its subcontractors will not have access to customer data without prior approval by the customer or the data trustee."
The new Azure datacenters will be located in Magdeburg and Frankfurt am Main. Frankfurt is an obvious location as it is the financial heart of Germany. Amazon already has datacenters here.
Microsoft will offer Azure, Office 365 and Dynamics CRM services in Germany starting second half of 2016.
The press release of Deutsche Telekom has some interesting details on this data trustee model.
Azure services in the UK 
Microsoft Azure and Office 365 will be generally available from local UK-based data centers in late 2016 with Microsoft Dynamics CRM Online following shortly thereafter.
Expanded facilities in Ireland and the Netherlands
In addition, Microsoft announced the completion of the most recent expansion of its Ireland site and that its data center facility in Middenmeer, the Netherlands, is now operational.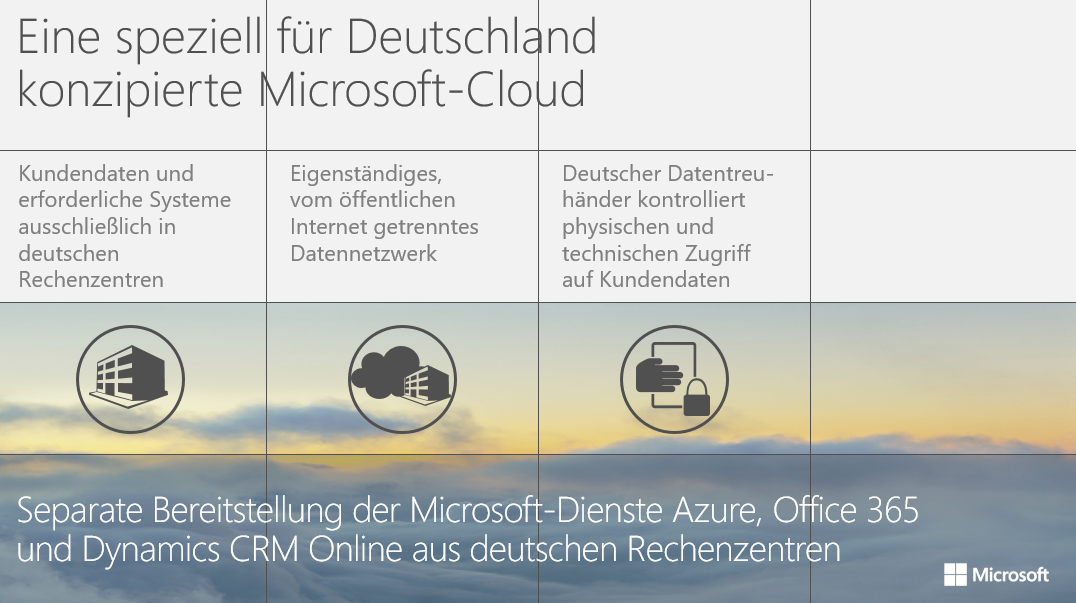 The pressrelease on the German Azure datacenters is here.
The pressrelease on the UK Azure datacenters is here.